34 Foot Mast Antennas
The 34 ft. self-supporting LF/MF antenna has capacitive top loading and inductive center loading. It is designed for use where land area is at a premium and low frequency operation is desired. A perimeter wire around the top hat radius enables the antenna to reach all frequencies desired. It is easy to install with one person.
Easy to install by one person, the 34' (11m) mast has proven strength, performance and long-term durability and is designed for many years of uninterrupted service in the harsh offshore environment.
As a test, we left a 34 foot mast installed in our Antenna Test Field during Hurricane Rita and Hurricane Ike. Sustained winds were 120 mph (196 km/hr) and 110 mph (180km/h) respectively. In both cases the antenna survived without damage.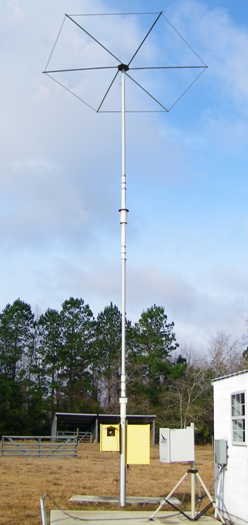 Land Installation
P/N SLF10014
Frequency: 190 – 1800 Khz

Capacitance: 200 pF typical
Power: 100 Watts at 190 KHz
Height: 34 feet
Radial diameter: 16 feet
Wind Rating: 100 mph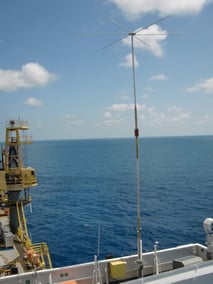 Offshore Installation
P/N SLF10015