SA100 Dual - IP66 EC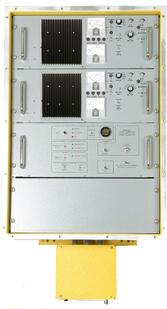 The SA100 Dual, IP66 EC transmitter has an adjustable output power up to 100 Watts. The SA100 Dual consists of two independent SA100 transmitters and an Automatic Transfer unit housed in a single cabinet.
Complies with the Essential Requirements of Council Directive 1999/5/EC on Radio Equipment and Telecommunications Terminal Equipment. Meets all applicable requirements of ICAO, FCC, and FAA. CE mark and ANATEL Certified.
Southern Avionics guarantees that we will have Spare Parts, Technical Support and Service available for purchase for a minimum of Ten (10) Years from the date the last SA unit is sold.
The SA series NDB transmitter combines extremely high reliability with simplicity in design. SA NDB Transmitters are available for 100 Watts.