SC1000A DGPS Transmitter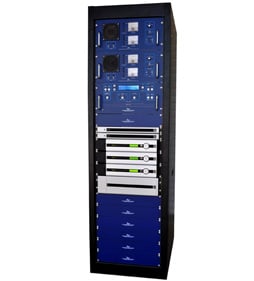 The SC1000A Differential GPS transmitter allows carrier power adjustment from 50 to 1000 Watts. The transmitter uses switching technology in the power amplifiers and modulator regulator resulting in a highly efficient system in a relatively small package.
The exciter portion of the transmitter consists of an MSK Interface board which accepts a 283.5 kHz to 325 kHz sine wave input signal ranging from 0 to 15 dBm. The MSK Interface board squares, monitors and distributes this signal to the power amplifiers.
The completely redundant RF power sections of each drawer consists of independent 1000 Watt assemblies. Each 500 Watt sub-assembly has an output filter, a switching power amplifier, and switching modulator/regulator. The RF output of each sub assembly is combined to provide a 1000 Watt signal to the Antenna Coupler.
The SC1000A also contains a Renesas microprocessor controlled Automatic Transfer Unit / RIM Controller, Interface I/O panel and an RF output panel housed in a single 19-inch rack cabinet.
The RIM Controller uses RSIM commands which allow the unit to control up to 24 external devices, through relay contacts, monitor up to 40 external devices such as intrusion alarms, temperature and humidity sensors, log Built In Test Equipment data and communicate with a Reference Station using an Ethernet ready interface.
The RIM Controller provides continuous monitoring of critical parameters to the Reference Station such as Forward and Reflected Power, VSWR, Antenna Current and system faults.
The SC1000A works in conjunction with the PV1000 Antenna Coupler to provide a near perfect Resistive Match and Series Resonant Tune point for the antenna system utilized. As antenna system resistance changes throughout the day, the SC1000A and PV1000 work together to maintain a constant field strength output from the antenna, when the transmitter is set to Automatic Level Control mode.
How does the SC1000A differ from previous versions?
1. We significantly improved the RSIM drawer:
| | |
| --- | --- |
| SC1000 (pre 2010) | SC1000A (current) |
| Large quantity of plug-in PCB's | RSIM motherboard now incorporates all control relays, monitor state isolators, transmitter metering and system calibration. The microprocessor, a powerful MC16C series Renesas platform, is mounted on a separate PCB. No extender cards required |
| Microprocessor, 68HC11 series, must be removed from system to upgrade firmware | Master Controller PCB allows for firmware upgrades without the need to remove the microprocessor. |
| No visual monitoring of RSIM commands or system parameters. Contains no BITE information | 4 line by 40 character LCD makes setup and monitoring of system BITE information easy to view |
| All system adjustments, i.e. RF Power, Low Power shutdown level and VSWR shutdown level, require entry into transmitter via manual adjustment | System functions such as power level adjustment are carried out on the front panel's keypad |
| External communication on RS422/RS232 only | Communication is accomplished with an internal RS485 to Ethernet converter making the transmitter "Network Ready" for ease of interface and control |
| ATU communication analog only | RS485 port added to allow communication with a modern "Intelligent ATU" |
| Power level fluctuations due to line voltage and environmental changes | Added Automatic Level Control (ALC) provides a stable power level when used with SAC's Intelligent ATU and ALC is engaged |
| ATU setup and adjustments made at ATU | Intelligent ATU can be adjusted using the transmitter's front panel keypad controls |
2. We improved several other features overall:
SC1000 (pre 2010)
SC1000A (current)
Housed in a fixed 30 Rack Unit Cabinet.

Only 9 Rack Units available for customer equipment

Housed in a 36 Rack Unit Cabinet with casters for easy movement and installation

18 Rack Units Available for Customer's DGNSS Equipment

24 VDC battery stack needed as well as 144 VDC battery stack

Only 144 VDC battery stack is needed

Requires 144VDC inverter and Load Center

DC Inverter and Load Center Eliminated

Large open power relays for AC/DC control and RF transfer

More reliable Solid State relays used to control AC

Internal point to point RSIM to Transmitter drawer wiring

Internal RSIM to Transmitter drawer wiring changed to DB25 style cables providing improved maintenance capability
3. The SC1000A works with our new PV1000 Intelligent ATU
| | |
| --- | --- |
| PC1Kilo USCG ATU | PV1000 Intelligent ATU |
| Automatically compensates only for a change in antenna capacitance | Can compensate for changes in antenna capacitance and ground resistance |
| Changes in resistance made manually with jumpers in fixed Impedance Tap steps | Resistance changes are adjusted for automatically using SAC's "L Match" technology. This technology allows for continuously variable resistance compensation |
| Only a spark gap is available for lightning protection | Adjustable spark balls, 1 to 1 isolation transformer and I/O surge protection board comes standard |
| No solar loading prevention mechanism available | ATU comes standard with mounting holes for an optional top mounted solar shield |