SC200 DGPS Transmitter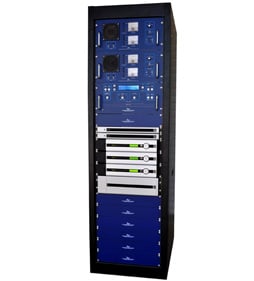 This Differential GPS transmitter has carrier power adjustable from 10 to 200 Watts. The transmitter uses switching technology in the power amplifiers and modulator/regulator modules resulting in a highly efficient system in a small package.
The exciter portion consists of an interface for a 283.5 to 325 kHz input signal 0-15 dBm and a monitor circuit.
The power portion of each transmitter consists of an independent 200 watt system. Each system has an output filter, a switching power amplifier, and switching modulator/regulator.
The SC200 has the ability to operate with dual antennas and ATU's. Antenna selection is either done locally or through a RSIM command.
The SC200 Dual consists of two independent SC200 transmitters and an Automatic Transfer Unit / RSIM Controller designed for mounting in a standard 19-inch rack cabinet.
Also, below is the list of SC200 / 500 attributes that are improvements over the SC1000...
For use with the PC1000C3 Antenna Tuning Unit.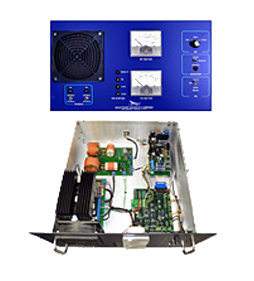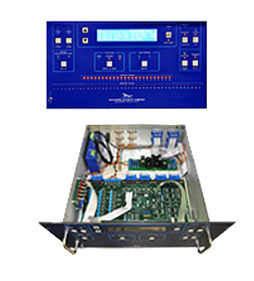 The new SC has a number of features:
Universal Input power supply - No setting jumpers for different parts of the world
New switching power supplies make the new SC much lighter than the old SC
The front panel LCD gives the customers immediate feedback on the operation of the transmitter
Ethernet helps the customer monitor and control the system from multiple remote terminals or virtually any computer in the world using Internet
New shielded RF assemblies and coaxial relays help the new SC meet more stringent requirements
New sealed membrane keyboard with 10,000,000 key-press capability replaces old keys that got dirty
New external Analog Inputs gives customers access to external signal monitoring at transmitter site
New microprocessor "heartbeat circuit" monitors system operation to comply with CAP670 requirements
More powerful Renesas Microcontroller gives customers greater flexibility on operations
New modern indoor enclosure has greater EMC capability and a smoked glass front door