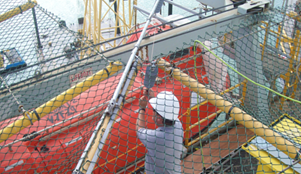 On an oilrig in the Gulf of Mexico, a client had installed a Southern Avionics SE125 NDB system to provide safe and consistent navigation to the platform for his pilots.
The Challenge
During the testing phase of the installation, pilots began reporting erratic needle swings while trying to approach the platform. Despite being tuned into the NDB, the pilot's automatic direction finder (ADF) continued to oscillate.
The Solution
Southern Avionics walked the client through the standard support and troubleshooting procedures to adjust the distance between the structure and the radiating element and set the parameters of system voltages, currents, and reflected power.
While this helped improve the signal for most pilots, some were still reporting issues. Southern Avionics' engineers went an extra step further into the support process to make the NDB work. The engineers flew with the pilots and discovered an AM radio station with a similar frequency to the NDB that was causing the needle oscillations.
With this new information, the client drastically changed the frequency of the NDB and now is able to provide safe and reliable navigation to the platforms.
If you are having a similar issue, please contact techdept@southernavionics.com or complete a form with your concerns.