The basic components of a Southern Avionics® Non-directional beacon (NDB) are the Transmitter, Antenna Tuning Unit (ATU) or Antenna Coupler, and Antenna. The antenna consists of the radiator, insulators, and grounding system.
Customers may overlook the importance of correct antenna matching when using existing antennas with their new NDB & ATU. NDB antennas that have been in service many years often have deterioration or hidden damage in the radiator element, insulators, or the grounding system.
Because of the high voltages normally present, weakness in these areas can cause the antenna to short out. This will (correctly) cause the NDB transmitter to shutdown, or the antenna may simply have insufficient capacitance to allow optimal operation.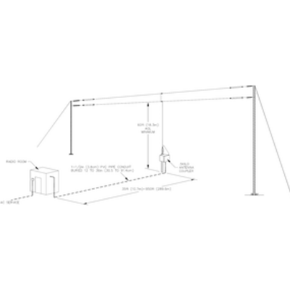 Match NDB Components for Optimal Performance
Although the Southern Avionics' NDB and ATU are very robust and extremely reliable components of the ground station, using a poor quality antenna will significantly impede performance or cause the NDB to fail completely.
For this reason, SAC designs and supplies our own antenna systems specifically engineered to maximize the performance of our transmitters. These designs are the result of our more than 48 years of RF design and manufacturing experience.

A properly installed and configured Southern Avionics® NDB normally provides decades of uninterrupted service.

To have your existing antenna approved, simply provide detailed information regarding the antenna configuration and conditions of the site to us. We will make our review, and provide comments on problems that might be encountered if necessary. Wherever possible, we will make recommendations so you can bring it up to optimal performance. After approval, the equipment will receive full warranty coverage. There is no cost for this antenna configuration and site analysis service.
Please note: As the use of antennas that were not supplied (or approved) by SAC may introduce a major unknown element into the system over which SAC has no control, and which may cause failure or damage of the other installed components, the use of antennas that are deteriorated, of incorrect capacitance, or are otherwise improperly matched, will necessarily void our warranty.
40′ (12m)
60′ (18.m)
90′ (27m)
A Tower Antenna can be used if sufficient land is not available for a Symmetrical "T" Antenna. A portion of the top set of guy wires is used to form the top hat for this antenna.
A Tower Antenna is electrically inferior to a Symmetrical "T" Antenna of the same height due to the decreased top loading. Top loading serves two purposes; decreasing the input reactance and consequently the voltage on the antenna and increasing the effective height.
A 50 foot tower requires a plot of ground with a radius of 60 feet. Range over "good" ground varies from approximately 40 miles at 190 KHz to 50 miles at 535 KHz with a 50 Watt transmitter and from approximately 60 miles at 190 KHz to 65 miles at 535 KHz with at 100 Watt transmitter.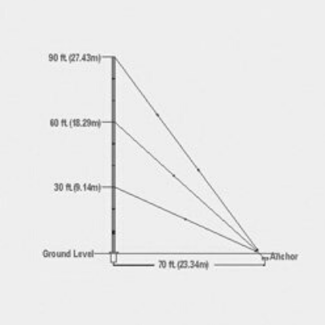 30ft (9m) Low Power
60ft (18m) Low and High Power
90ft (27m) Low and High Power
120ft (37m) Low and High Power
The Symmetrical "T" Antenna is the optimal land based antenna system when adequate space is available.
The Installation Kit, Antenna Simulator, and Aviation Obstruction Lights are also optional with Symmetrical "T" Antennas.
The standard Symmetrical "T" Antenna is supported by 10ft sections of above ground level Support Towers placed 300ft apart. Range depends on the field strength required, the ground condition, and the power radiated.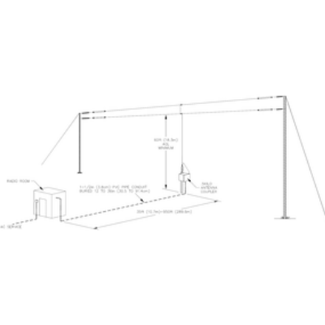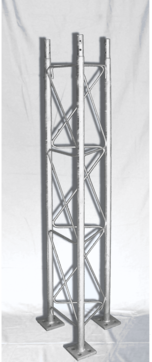 Square Helipad with End Fed Antenna Wire
Octagon Helipad with End Fed Antenna Wire
Square Helipad with Center Fed Antenna Wire
Helipad Overhanging A Platform with an End Fed Antenna Wire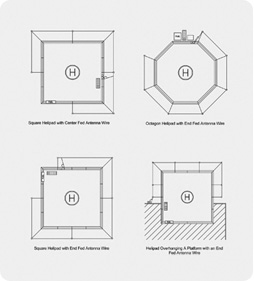 This longwire antenna is designed to be installed around the perimeter of a helideck. Southern Avionics' Helideck NDB Antennas give your pilots the signal they need to find the helideck every time in any weather.
Includes antenna wire, insulators, mounting poles, and hardware.
CAP437 and 670 Compliant
P/N SLF10023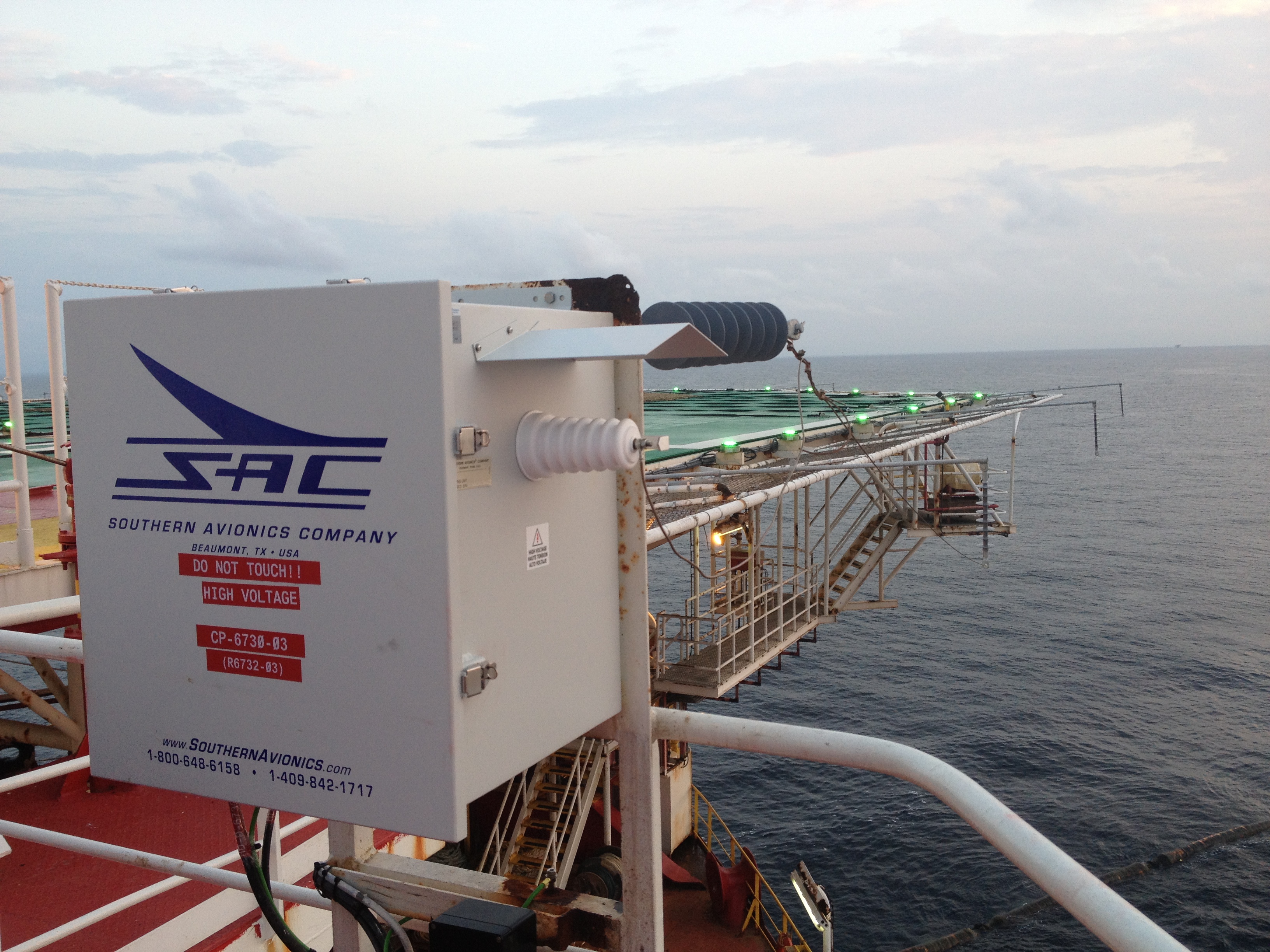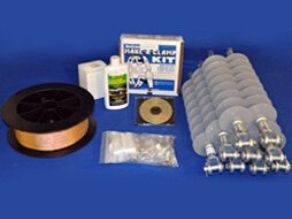 The 10m Fiberglass Whip Antenna is a self-supporting fiberglass transmitting antenna with side feed for marine NDB applications. Polyurethane lacquer finish (white).
It can be used in conjunction with a SAC PC-1000C/3 Antenna Tuning Unit and SE125 NDB Transmitter, with the addition of PCBs Filter Bridge M-Band Module (500 – 1250 kHz, SLE45210) and Filter Bridge H-Band Module (1500 – 1800 kHz, SLE45220). Using all the modules, a frequency range of 280 – 1800 kHz can be achieved.
The 10m antenna comes with a bronze flange for mounting directly to the deck or on top of a 6ft/2m H Beam. An optional tilting mechanism is also available.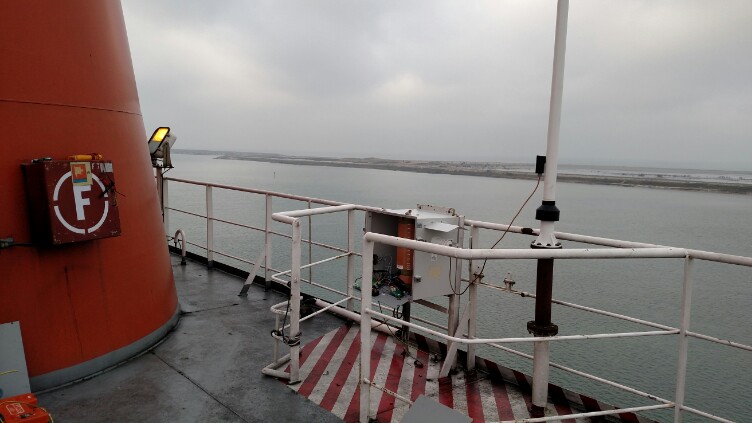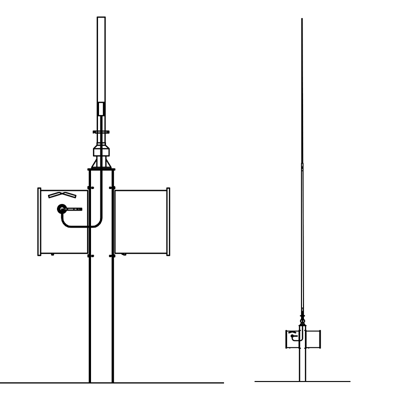 Frequency: 190 – 1800 Khz

Capacitance: 200 pF typical
Power: 100 Watts at 190 KHz
Height: 34 feet
Radial diameter: 16 feet
Wind Rating: 100 mph
The 34 ft. self-supporting LF/MF antenna has capacitive top loading and inductive center loading. It is designed for use where land area is at a premium and low-frequency operation is desired. A perimeter wire around the top hat radius enables the antenna to reach all frequencies desired.
Easy to install by one person, the 34′ (11m) mast has proven strength, performance, and long-term durability and is designed for many years of uninterrupted service in the harsh offshore environment.
As a test, we left a 34 foot mast installed in our Antenna Test Field during Hurricane Rita and Hurricane Ike. Sustained winds were 120 mph (196 km/hr) and 110 mph (180km/h) respectively. In both cases, the antenna survived without damage.