Southern Avionics NDB and DGPS Field Engineering Services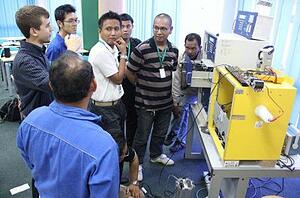 Southern Avionics Field Engineers are available worldwide for offshore drilling rigs, platforms, deep-sea vessels, and land installations to perform the following services:
Our certified field engineers have valid passports, relevant health certificates, and necessary worker's compensation and liability insurance, and work in every type of environment. Our field service staff is trained to provide the same high quality of service that Southern Avionics builds into all of our products.
Southern Avionics implements turnkey projects, provides equipment, participates in commissioning and inspections, and provides entire project management wherever our customers need our expertise. We have representatives worldwide, positioned to reach clients swiftly and provide any necessary service on our equipment.
Southern Avionics conforms to ISO 9001 standards, and our field service staff is fully committed to delivering the same high quality service that we put in our product manufacturing.
We also offer a variety of in-house services designed to give timely assistance to our customers. In-house services include, but are not limited to, the following:
Telephone assistance from our technicians
PCB repair or replacement
Testing
Training